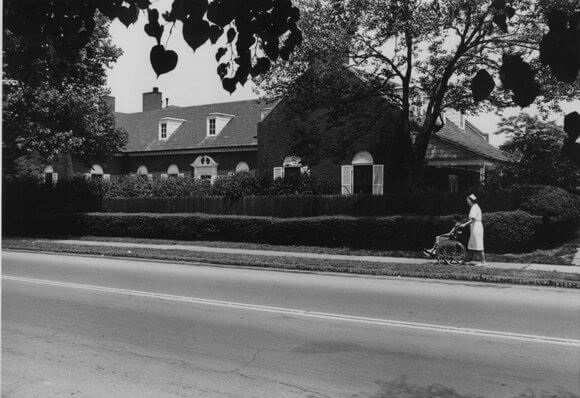 In 1902, Mary Irwin Laughlin established the Memorial Home for Cripple(d) Children in order to care for a six-year-old boy who lost his legs in a train accident. Today, the organization she created to care for one child in need has evolved into an organization that provides a range of high-level outpatient rehabilitative and behavioral health therapies, as well as family, social, educational, and care coordination services. What began as an organization serving one child has grown to serve thousands of amazing kids and families each year.
We are proud of our ever-changing, always meaningful history:
1902: Mary Irwin Laughlin establishes the Memorial Home for Cripple(d) Children.
1919: 75% of our patients were recovering from polio.
1955: Staff and children take part in final testing of Dr. Jonas Salk's new polio vaccine.
1960s: Evolved to create a range of high-level medical, educational, social, psychological, and prevocational programs.
1968: We became the nation's first comprehensive rehabilitation center for children to be accredited by the Commission on Accreditation of Rehabilitation Facilities (CARF).
1980s: In response to an aging population, we developed adult inpatient and outpatient rehabilitation services.
1981: We changed our name to The Rehabilitation Institute of Pittsburgh.
1988: Designed and published Custom Trunk Support; long-term impact is still seen today in the design of wheelchairs, long sitters, and standers.
1990s: In response to migration to the suburbs, we open satellite locations throughout Western Pennsylvania.
1991: The original DynaVox, an augmentative communication device, was placed on the market, with the assistance of our staff, who worked collaboratively with the engineer to develop the first dynamic display.
1998: Our adult services transferred to UPMC, allowing us to reaffirm our original mission - to promote the wellbeing of children, young people, and their families. We changed our name to The Children's Institute of Pittsburgh.
2002: Developed GymBop®, a conceptual model integrating the educational specialties of music and adapted physical education, with the related services of occupational, physical and speech/language therapies.
2003: The Day School at The Children's Institute became the first school in Pennsylvania to earn accreditation by the National Commission on Accreditation of Special Education Services (NCASES).
2004: Introduced the Reflex Neurovascular Dystrophy program, only the second of its kind in the eastern half of the United States. Project STAR – now known as Family Support Services – received the Adoption Excellence Award for support for adoptive families from the U.S. Department of Health and Human Services.
2005 & 2006: Project STAR earned the Angels in Adoption Award from The Congressional Coalition on Adoption Institute.
2007: Project STAR introduced the first annual "Growing Families Through Adoption" matching event.
2008: Project STAR, Diakon Lutheran Social Services, and Bethanna collaborated in an initiative to match older youth with permanent families through a grant from the Statewide Adoption Services (SWAN) – the Older Child Matching Initiative (OCMI).
2009: We were selected to partner with The Heinz Endowments and community volunteers to oversee the "Women for a Healthy Environment" initiative.
2011: We dedicated the 10,000 square foot Nimick Family Therapeutic Garden.
2012: We dedicated the Project STAR Family Visitation Center located on the Squirrel Hill campus.
2013: Amazing Kids television campaign ad honored as "Most Memorable in Pittsburgh's History."
2015: The Day School is named one of thirty International MOVE™ Model Sites for work to help children gain independence and dignity. The New York Times magazine featured an in-depth article on our Center for Prader-Willi Syndrome in the Jan. 25 issue.
2018: The Children's Institute closes its inpatient rehabilitation and inpatient behavioral health services.
2020: The Children's Institute continues to evolve to meet the community where they are through tele-health and tele-education models.