For the past three years, Heather Grace, OTR-L, has witnessed incredible growth among the kids she serves as an occupational therapist at The Children's Institute of Pittsburgh. A series of recent conversations with a parent helped to spark an amazing sense of ingenuity, creativity, and passion within her. The innovative creations Heather has developed have opened new doors—and a new sense of accomplishment—for a growing number of kids.
Can you tell us about your new creations?
I've been taking toys and modifying them by adding switches to them so kids with limited function, especially with upper body and core challenges, as well as lower body challenges, can utilize and play with the toys. These adaptive toys allow kids to fully interact in new ways that weren't previously possible.
What type of toys have you adapted?
So far, I've adapted six toys, including an animated holiday tree, Fisher-Price toys, and a dinosaur bubble machine. Nearly any toy that is bought off the shelf can be adapted by adding either one or two switches. The switches look like the "easy" button from the Staples' commercials a few years ago.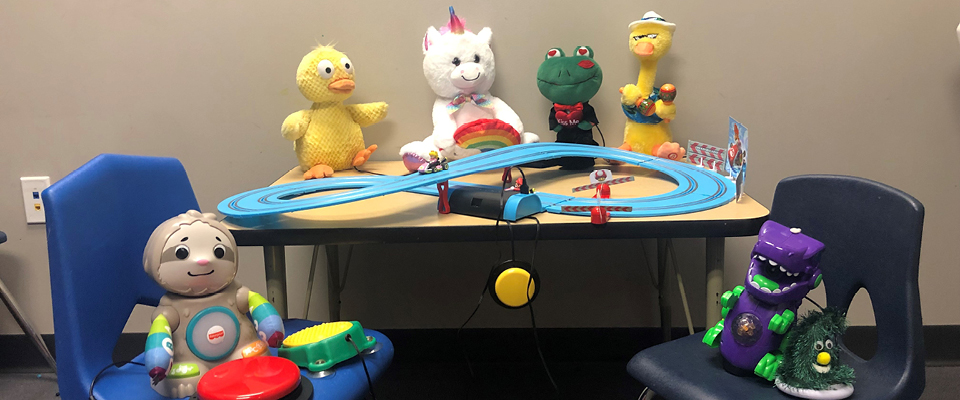 An assortment of adapted toys that have been created by Heather Grace. She is venturing into making the switches (easy button-style that children can press) by adapting other types of buttons to be used with these toys.

Where did you find inspiration for this project?
Over a period of several months, I began chatting with one of the parents of the little girls I work with. We would discuss how we could make more useful – and affordable – adaptive toys. Then I kept going back and forth about how I could learn more about creating these items and how I could fit them into my schedule. The little girl and her family were definitely the inspiration for this project.
What did you learn about the availability of these toys?
If you look online, the price of a switch toy is about 3-5x the cost of an unmodified toy and the options are pretty limited. For instance, a regular toy that costs $20 may cost $100 online with the switch added. In talking with the girls' Mom, I knew I could find a way to make these toys cheaper and better than what's currently available. We also wanted to have a mixture of toys that could meet the needs of kids across a variety of ability levels.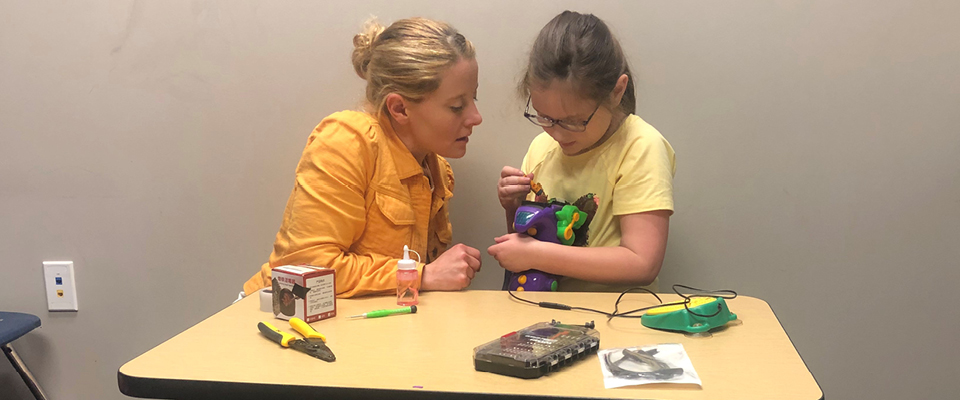 Amazing helper Grace works with Heather to convert a toy to a switch toy for her friend Tobias at the Norwin branch. Working on the toy has really helped Grace build up her confidence.
So when did you start developing these toys?
Over the holidays, I had some time off and watched a bunch of YouTube videos – probably about 50 videos in total – to learn how to create various adaptive toys and how to solder the switches. I also read a bunch of articles and even bought a soldering kit with a soldering iron. I practiced with a broken bubble machine toy first then I bought some more toys and jumped right in! I'm still in the trial-and-error process but the more I try, the easier it gets and the more confidence I gain.
How have the kids reacted to the new toys?
The kids' reactions to the modified toys have been great. They laugh and giggle – being able to interact with the toys has opened a whole new world for them. I've even asked some of our older kids to help create the toys with me, things like removing the screws, which helps kids improve their fine and visual motor skills. The kids love it and are so excited to help create something. The ability for them to be part of the process is awesome.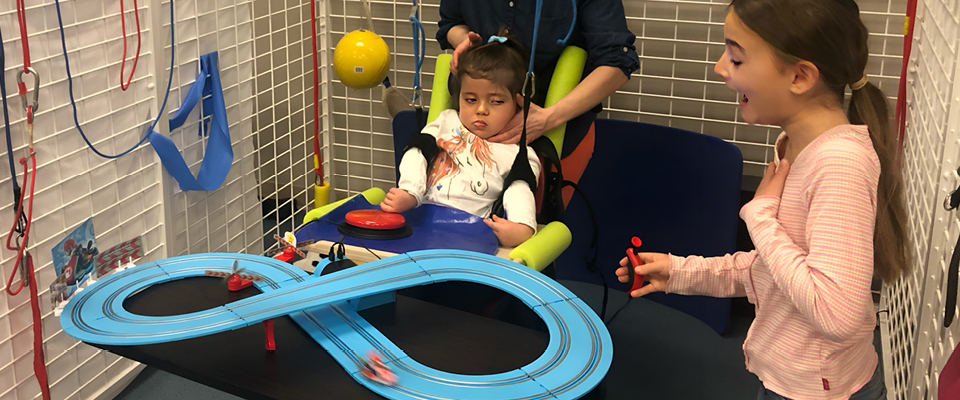 Kelsey and her sister big sister Autumn (right) playing with a racetrack adapted by Heather. With Kelsey activating the toy herself consistently on her left side, this was the first time the sisters could play a game together and be equal partners in playing since her regression in skills.
What do you hope the kids gain from using these new toys?
I hope to provide a higher level of independence for our kids. The toys are encouraging them to move more and use their arms while learning about cause and effect. They get to experience new tasks through the toys and they build the confidence to learn how to use additional adaptive equipment in the future.
Click here to learn more about the full range of occupational therapy, physical therapy, speech-language therapy, and nutrition services offered through The Children's Institute.